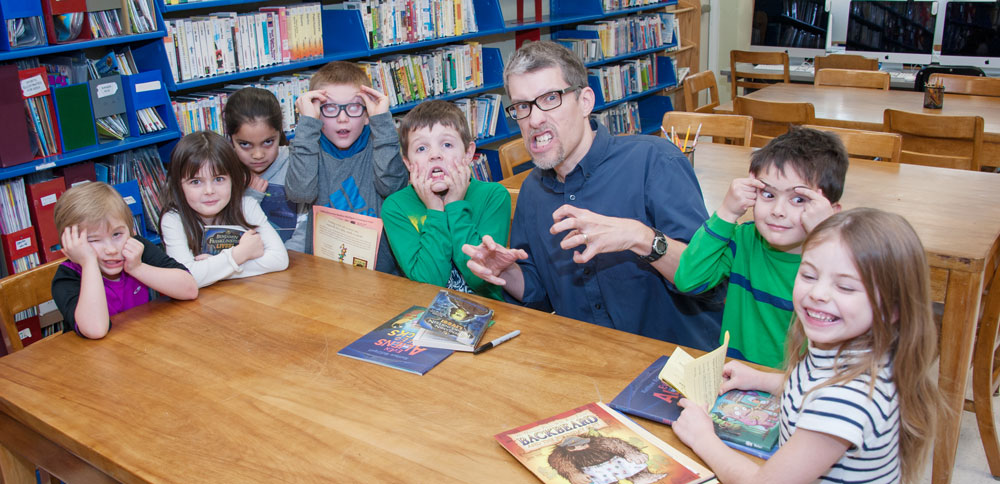 I love to visit schools to talk about my books and the process of writing and illustrating. If you're interested in having me visit, please contact me to discuss details such as pricing, scheduling, etc.
Comments from teachers and librarians
When classroom teachers come up to me and say "this is the best author visit ever" and mean it- it doesn't get much better than this! I always look at an author visit as a wedding. With all the planning, and time invested you want people to enjoy themselves. Well, they certainly did. I've never had a 100 percent response like this before. My principal was able to attend for a few minutes – but in those few minutes, whispered to me "let's book him in 2 years". WOW!
The use of technology was fantastic!
Matt's been the best author visit we've had!
You were the first author that we've had who showed how computers and technology are so integral to your work. That was truly unique.
The presentations were a perfect length and absolutely appropriate for the audiences. It is so wonderful that the performances are so tailored to the audiences.
When you have children stop at your house to tell you how good the visiting author was and that is all they could talk about the next day…it shows what a success it was. It has been a week since the visit and I cannot keep the books on my shelves.
Program Description
In my programs I talk about the process of writing and illustrating picture books. Each talk focuses on one of my books. It is VERY IMPORTANT that the students have read or heard some of my books. At the very least they should have read book that I will be presenting to them. Most presentations begin with a reading of the book, except for Benjamin Franklinstein and Mad Scientist Academy (see below).
Mad Scientist Academy: The Dinosaur Disaster or The Weather Disaster
(Best for grades 2-6)
 These presentations cover writing, editing and revising, with a special emphasis on the scientific research involved in creating the non-fiction parts of the books, including my work with a paleontologist from the American Museum of Natural History (for Dinosaur Disaster) and a television Meteorologist (for Weather Disaster). I'll also talk about telling stories in the graphic novel format and give an interactive demonstration of the digital techniques I used to create the illustrations.
* Because of the graphic-novel format, I can't really read these books to the group during the presentation. To help you prepare the students, I've created a special slideshow of each book you can read to your class, formatted to work as a presentation you can project on a big screen. You can find it on my private author visit page.
Benjamin Franklinstein LIVES!
(Best for 4th-grade on up) This presentation covers the process of writing and illustrating a middle-grade chapter book, with a special emphasis on research as part of the writing process including some of the amazing things I discovered about Frankenstein and Benjamin Franklin. I'll also show how I illustrated the book and navigated the many wrong turns and missteps we ran into along the way, then finish with digital illustration demonstration where I add a volunteer to the jacket of the book. (*Because the presentation is so specific to character and plot development and revisions, this presentation really only works if all the students in the room have read the book, or at least started it.)
Even Aliens Need Snacks or Even Monsters Need Haircuts
(Best for younger grades, K-3) In both of these presentations I'll take the audience through an interactive reading of the book, sharing background stories and explaining the process of what authors and illustrators do. At the end, I'll demonstrate my illustration process as we create a brand new, audience-designed monster or alien using the computer.
The Lion's Share
(Best for grades 3-6) This presentation covers writing, editing, revising, digital illustration, and math. I take the students through the entire process of making the book and creating the artwork, and we even play an interactive game show about the surprising power of doubling and halving.
Backbeard and the Birthday Suit and Backbeard: Pirate for Hire
(Best for grades 2-5)
Both Backbeard presentations cover research, writing, editing, and revising, and conclude with a demonstration of the special technique I used to create the illustrations. Utilizing a combination of photography and Photoshop, I select a couple volunteers from the audience and demonstrate live how I can digitally incorporate the textures from their clothing into one of illustrations from the book.
Bean Thirteen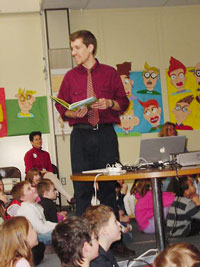 (Best for grades 1-4) This presentation covers writing, editing, revising, digital illustration, and math. At the end, I demonstrate the process I used to illustrate the book. Using suggestions from the audience, we invent a bug and I draw it on an easel. Then I photograph our character and bring it into the computer, where I clean it up, color it, and add it to one of the illustrations from the book.
Questions and Answers
I always try to save at least five to ten minutes at the end for questions from the audience. This is my favorite part of the program, and I strongly encourage teachers who might have questions feel to ask them as well.
Program Size
If you would like three presentations, I can do up to about 200 kids in each presentation group. If you would like me to do four presentations, please keep the groups to around 80-100 students in a smaller room such as the library. Generally, my programs work best with a relatively small group so I can interact with the kids and they can ask questions.
Age Groups
I adapt my program to accommodate all grades from K-6, although the programs for Kindergarten and First Grade tend to run a little shorter than the rest (about a half-hour). If I'll be presenting for an entire school, it seems to work best if we break it down into groups of two grades at a time (for example K-1, 2-3, 4-5, 6).
A Typical Day
I can give 3 large group (auditorium) presentations or 4 smaller group (library) presentations in a day. I can also do an additional meeting, with a small group of students, over lunch or snack so they can ask me questions.
Photography

I am happy to pose for photos before and after my presentation, but due to copyright concerns from my publisher, please do not shoot video without consulting me first. If someone wants to take photos while I am presenting, please have them stay to the side or back of the room and not walk among the students.  Also please try to avoid flash photos while I am presenting. If you need to use a flash, just let me know and I'll suggest some good points during the presentation when it would be least distracting for the students.
Equipment Requirements
I don't need much, but I do need a video/computer projector (sometimes called an LCD projector) and screen or Smart Board I can plug my laptop into, a couple of electrical outlets nearby (extension cords if necessary) a chair and a small desk. Please have the remote for the projector or Smart Board on hand in case I need to make adjustments to the picture. If you will have me in a large room like the cafeteria, please have a mic available (wireless hands-free headset type, if possible, so I can walk among the students). If we're doing the Bean Thirteen presentation, I'll also need an easel and 2-3 sheets of large paper.
Program Length
For grades 4 and higher, generally allow one hour for the program and question and answer time. For 2nd and 3rd grade plan 45 minutes to an hour. Programs for Kindergarten and first grade are 30 to 45 minutes. I'll need at least 10-15 minutes in between each program to get set up again.  Allow more time between talks if possible, in case students have a lot of questions and a session runs over.
School Contact
The programs always seem to go smoothest when there's someone at the school who will be available throughout the day to answer questions and to help me find my way around.
Program Location
Because my presentation uses electronic and digital equipment, it works best if I can set up in one location and stay there the entire day. I understand that scheduling a visit like this can be a logistical nightmare, especially if you need to fit in every single student and make sure they don't miss any specials, interfere with lunch, etc. I have found that libraries work the best by far, because they're relatively intimate and the students are surrounded by books, reinforcing the message. If we have to use an enormous room it really helps if we can arrange everyone so that they're pretty close to the front, ideally in a sort of U shape around me with an aisle down the center.
Although we can make them work, cafeterias and gyms tend to be the worst place to present. They're so big that the sounds bounce all over and it tends to be very distracting for the students. A tight, cozy group in the library is better than a spread-out group in a cavernous space any day.
No matter where we set up, it's critical that we can make the room dark. Not pitch-black, but dark enough so that the images show up clearly from the projector. Some of my illustrations that have a lot of dark values completely disappear in an overly bright space, and the students are left guessing at what I'm talking about. If your projector is newer and has a powerful bulb, it can compensate for some light in the room, but you should set it up to test the rooms before you decide which room is best. Please understand, I am not responsible for the quality of the presentation if the students can not see the projected image clearly.
Ordering Books
I've found the best way to handle book orders is to go through your local independent bookseller. Get the details from your bookstore at least two months before the visit. Once you know what books you will offer, send an order form home with your students. (I have an order form already made up that I will send to you when we schedule an author visit.)
Bookstores
As far as finding a bookstore, I have great relationships with these booksellers. Just give them a call and tell them I'm coming to visit your school. They can help set everything up, offer discounted pricing for schools, and will take care of all the complicated details you don't have time for. Plus, you'll be supporting an independent bookseller!
In the Capital Region:
The Book House
of Stuyvesant Plaza
1475 Western Avenue
Albany, NY 12203
(518) 489-4761
I Love Books
(ask for Melissa)
380 Delaware Ave
Delmar, NY 12054
(518) 478-0715
Open Door Bookstore
128 Jay Street
Schenectady NY 12305
(518) 346-2719
Market Block Books
290 River St.
Troy, NY 12180
(518) 328-0045
Stanley Hadsell
Manager/Buyer
mgr@marketblockbooks.com
Saratoga area:
Binghamton/Utica area:
Syracuse area:
Northshire Saratoga
424 Broadway
Saratoga Springs, NY 12866
518.682.4200
855.339.5990
Green Toad Bookstore
198 Main St.
Oneonta, NY 13820
607.433.8898
jim@greentoadbookstore.com
River's End Bookstore
19 West Bridge St.
Oswego, NY
Tel: 315-342-0077
www.riversendbookstore.com
info@riversendbookstore.com
Rochester area:
Southern Vermont area:
Liftbridge Books
45 Main St.
Brockport, NY 14420
585-637-2260
info@liftbridgebooks.com
 Burlingham Books
2 South Main St
Perry, NY 14530
585-237-3190
store@burlinghambooks.com
Northshire Manchester
4869 Main St
Manchester Center, VT 05255
802.362.2200
800.437.3700
If you are unable to arrange things through a local bookseller, you may also contact the publisher. Tell the sales department that the order is for an author event. If purchasing is through a PTA or PTO, paperwork can be filed so that sales will be sales tax-exempt.
For sales of Mad Scientist Academy: The Dinosaur Disaster, Bean Thirteen, and the Benjamin Franklinstein books, contact Random House Customer Service: 1-800-733-3000.
For sales of Even Aliens Need Snacks, Even Monsters Need Haircuts, The Lion's Share, Absolutely Not, and the Backbeard books: MPS Special Sales: 888-330-8477
Signing Books
Signings will go smoothest when you have the students fill out a small slip of paper with their first name only, which you then insert into each book like a bookmark. That way, I can read the name off each slip and personalize the autograph accordingly.
I'll be happy to sign any books you or the students might have. There are two ways we can do it:
 I can sign the books between sessions and at the end of the day, but not while the students are waiting.
If we have a large number of books to be signed, this is definitely the better choice. It gives me a little more time, and I can often include a small drawing with each signature.
I can sign the books while the students wait.
For example, after each presentation, the students who have books to be signed can stick around afterwards and make a short line. I'll sit at a table and sign them, and in about five or ten minutes (depending on how many books there are) we can do the entire bunch. The advantage of this method is that I get to meet the students, and they get to see me sign their book. The disadvantage is that I will only have time to sign their name and my signature.
Additional Questions
If you have any additional questions, or have an idea for something not covered here, please feel free to contact me any time.