Matt is offering live video Skype chats to schools to promote his new series, the Mad Scientist Academy!
Matt lives near Albany, NY (Eastern time zone). If you are located more than 4 hours from there, you may consider having Matt visit your students via a Skype video chat.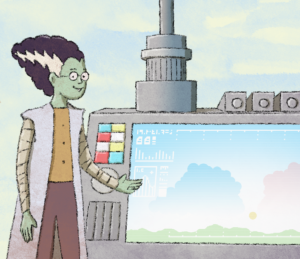 The Skype talks are 30 minutes long. Matt will talk to one or two classes (50 students maximum) per 30 minute Skype visit. He can do several Skype visits in a day if you have more than 50 students. Matt will present to students in 1st grade and above about creating the Mad Scientist Academy books. Presentations are about 20 minutes, with the last 10 minutes reserved to answer the students' questions.
Book the visit at least several weeks in advance so you can prepare the students and take books orders. We have a book store near Albany that will mail you the books after Matt has signed them, or you can use your local bookstore and Matt will mail you signed bookplates for the students.
Please fill out the form below and Matt's wife Christy will get in touch with you to book the date!