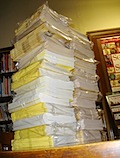 Spent the day in Bainbridge yesterday talking to kids and signing books. Mostly signing. Thanks to a generous grant from the Books With Senator Libous program, we smashed my previous one-day record and sold five hundred and ten books. Piled up, they made a stack almost eight feet tall. I signed almost all of them. Later, on the drive home, my arm fell off.
It was a fun visit, especially since we did the presentation in the Bainbridge Town Hall Theater. They bused the kids over from the elementary school and they filled the seats and a good bit of the balcony. It's a great space, and I felt a little like I was on vaudeville.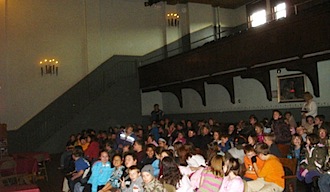 My thanks go out to everyone who helped make this visit possible, including Dolores Nabinger, Cathy Sherrick, David Leib, Bev Fox, and Michelle Shirkey and everyone at Greenlawn.
Here's some terrific artwork by Ms. Paoletti's Greenlawn art students: