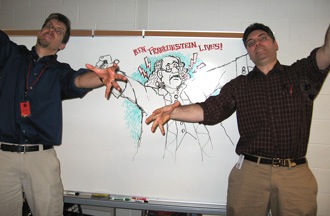 This week, I visited Farnsworth Middle School in Guilderland, where my friend Larry teaches. We're writing a book together about the reanimated corpse of Benjamin Franklin, and we though this was something the middle school students should know about.
It was great fun. We talked about writing, re-writing, revising, editing, first and second drafts, and trashing it all and starting all over again. Later, while Larry was tending to his classroom duties, I doodled Benjamin Franklinstein on the whiteboard.
Everyone at Farnsworth was very nice, even though they have to work with Larry every day.