Games and Activities
Frieda's Shadow Game

Lately, Frieda's been seeing shadows of birds everywhere she goes. Help her figure out what the shadows really are!
(This game may take a few moments to load and requires the Adobe Flash plugin.)
Make a Moldy Dog Snack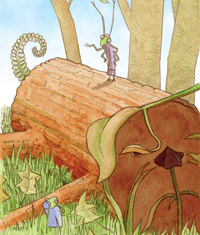 Learn how to make a fun snack inspired by the log the Gloria and Frieda find in the woods. A great rainy day project!
Projects and Lesson Plans
Below you will find links to several projects and lesson plans geared around Absolutely Not. They are suitable for a wide variety of grades and class sizes, and include both art and language activities. Each activity can be printed or downloaded for later use.
I'm always on the lookout for new ideas and suggestions, so if you've found a good way to incorporate one of my books into the classroom, I'd love to hear about it. In the mean time, have fun with the following projects.
Common Objects Creations
Students learn to look at everyday things in new ways as they use them to construct imaginative objects and creatures.
Ink Blots
Just as Frieda sees faces in clouds, students use their imaginations to spot things in abstract shapes, then turn them into illustrations.
Follow the Map
Students use the map to trace the path of Gloria and Frieda's adventures. (Note: the PDF version of this project has a higher quality version of the map for using as a handout.)
Optimist/Pessimist Writing and Language Projects
Three projects based on the theme of optimism/pessimism that can be used with individual students or an entire class.