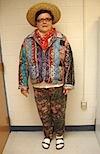 This week I was in Hagerstown, MD, visiting four schools. Hagerstown is the birthplace of the Bookmobile, which began began over a hundred years ago and was actually a horse-drawn wagon driven by the library's custodian.
It was a great week, and the kids were fantastic. At every school they were prepared and pumped for the visit. Even the teachers got into the spirit (check out Mrs. Jordan's clothes above – a Backbeard-caliber ensemble if ever there was one.)
One of the nicest surprises came on the last day of the visit, at Lincolnshire Elementary. The kids prepared a full-blown production of Bean Thirteen, and it was incredible.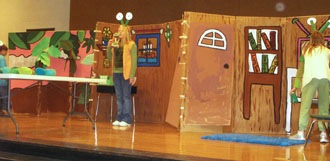 View a video clip from the play
Afterward, they presented me with a quilt made from illustrations the kids drew from scenes in my books. It was an amazing way to end the week. Thanks to everyone in Hagerstown who worked so hard to make this visit a success.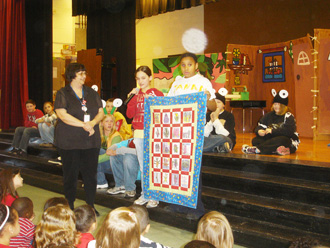 (Click below to see some of the great artwork created by the Hagerstown students.)
Emma K. Doub Elementary
Williamsport Elementary
Pangborn Elementary
Lincolnshire Elementary
(Check out the Lion's Share cake!)