Just got back from the NCTE (National Council of Teachers of English) convention in Nashville and it was a fun and strange trip. First, the fun part: I got to see a lot of very cool people from Walker who I'd never met in person before. I met Susan Roth, a terrifically talented author/illustrator with whom I co-presented. And finally, I met all sorts of teachers and librarians from all across the country. It was really a blast.
Now the strange part. The convention was held at the Gaylord Opryland hotel/resort/convention center, and I'm not exaggerating when I say it's the biggest building I've ever been in in my life. It's stadium-big, but bigger. It feels like it goes on for miles. It has its own island, surrounded by a river, upon which a tour boat sails. The ceilings are architectural marvels.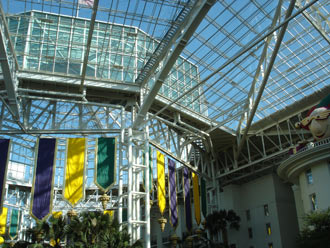 A few facts about the Opryland: It has nine acres of gardens under its roofs, a 44-foot waterfall, 2,881 guest rooms, over half a million square feet of meeting and exhibition space, and is evidently located within one-day's drive of two-thirds of the nation's population.
It is a very, very strange place indeed.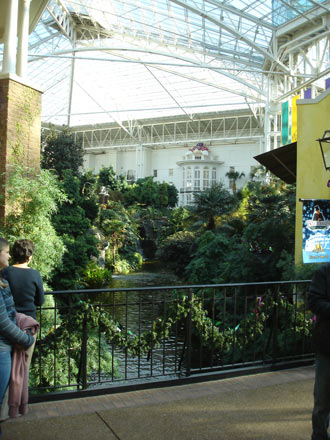 It's hard to communicate just how big this place felt. Walking in for the first time I was overwhelmed by the sheer size of the building that held my room. It surrounded a courtyard of gardens, bridges, and at least three full restaurants. But this was only a small introduction to what lay beyond, a preposterously oversized city of the future. During my three days in Nashville I never left its walls.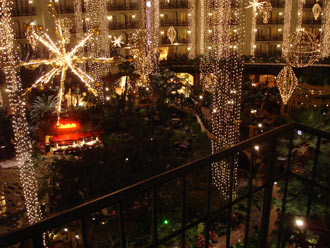 I had a great time at the Gaylord, but after a day or two I had definitely had enough. It felt a little like watching a Twilight Zone marathon; at first the strangeness was engaging and cool, but after a while I longed for fresh air, sunlight, and evidence that the world outside was still alive and well.