I love visiting schools, especially when the trip takes me somewhere I wouldn't have otherwise ended up. Last week, for example, I found myself in Springfield, Illinois for the IRC convention, just blocks from Abraham Lincoln's old house: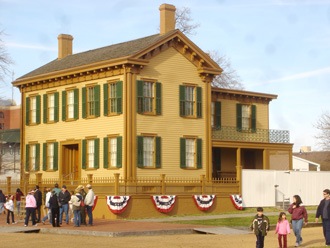 And just yesterday, driving through Ashland, NY, I passed what appeared to be the Partridge Family bus: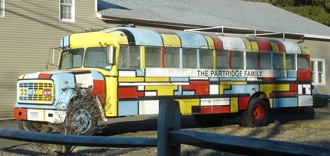 So it's been a big week. I did a little digging and discovered that, alas, the bus in Ashland is only a replica, but it was impressive nonetheless. In a way, though, I wish I hadn't looked it up. There was something satisfying about imagining a final, unaired episode of the show in which Mrs. Partridge and Reuben Kincade retire to a sleepy upstate, NY town and happily fade away.
I was on my way down to Roxbury Central Schools, and my visit there was my favorite kind. RCS, a K-12 school, is in a beautiful old WPA building. I presented in the library (which was among the most impressive school libraries I've seen) and the kids were absolutely terrific. It makes such a difference when the students are prepared for the visit and really know the books.
But here's the best part. They put together a "meet the author" dessert reception and scheduled it before lunch. These are people after my own heart, and the cookies were out of this world.
My thanks to everyone at Roxbury (and especially Mrs. Johnson) for a wonderful day.