This week I visited two schools outside Syracuse, NY: Van Buren Elementary and Elden Elementary.
At least I'm pretty sure I did. It was a little confusing. It turns out that this was one of those situations where both schools were built from the exact same plans. They looked exactly alike, plus they were only a mile or so from each other. By the second day I kept forgetting where I was, exactly. But it didn't really matter; I had a great time both places.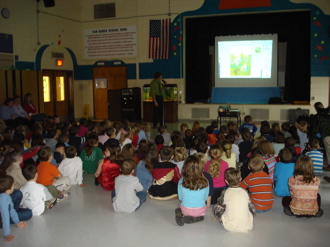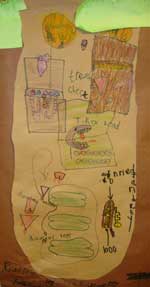 My first stop was at Van Buren, and after the morning presentations I got to meet with several students for an official "press lunch". As we ate, they took turns asking me questions about writing, illustrating and making books. I, in turn, did my best not to talk with food in my mouth. It was informal and a lot of fun, and the questions were really good.
Van Buren was a lot of fun, and I especially enjoyed the artwork where kids imagined what was buried down in Uncle Frank's pit. Very cool.
The next day I drove over to the other side of town to visit Elden Elementary. The school had just installed a beautiful new screen, and I got to inaugurate it. I'm not sure if it was because I was using a microphone, but for the second day in a row the kids were terrific. It's never easy doing a large presentation in a cafeteria, but these sure went smoothly. My thanks to all the kids at both schools.
Then came lunch. Actually, I can't even remember what I had for lunch; it was all about the dessert. Corinne Johnston, the Arts Education Chairperson went all out with one of the most spectaular pastry/cake/cookie/fruit spreads I've ever had the pleasure to see.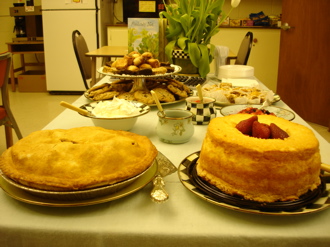 Finally, to top things off I finished the day with one more presentation to the PTA that evening. To their credit, the parents were even better behaved than their kids, and that's saying a lot. (The kids asked more questions, though.) It was a real pleasure getting a chance to speak to the parents, and I thank the PTA for the opportunity.
My thanks also go out to Corrine, Cindy Doback, and all the teachers and principals who made the visits possible. Much appreciated!