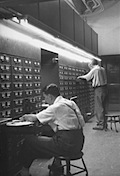 Once upon a time, every illustrator worth his or her salt kept a morgue file. The term comes from newspapers (who in turn swiped it from the coroner's office) and it refers to the collection of files of reference material and back issues usually stored in the basement.
An illustration morgue file is an accumulation of images, often clipped from magazines and old books, that illustrators used for reference when they needed to know how to draw something. Morgue files were often accumulated over the course of a career, and they were messy and difficult to organize.
Nowadays, there's little need to keep a traditional morgue file; the internet provides a much larger inventory than any individual collector could hope to amass. Listed below are some of the places I might go if I needed to draw, say, a horned lizard riding an old fashioned bicycle:
The Life Magazine Photo Archive contains millions of photographs, drawings, and engravings from as early as 1750:
(Be sure to check out this collection of artists at work.)
Compfight is a great way to search Flickr, and it gives you the option of restricting your search to images licensed though Creative Commons to insure you're not infringing on someone else's copyright:
Morguefile is a project by two brothers, Kevin and Michael Connors, to create a site specifically designed to emulate a traditional morgue file. All the images are free and available for use in commercial projects:
And finally, Wikimedia Commons is the media file repository for the Wikimedia Foundation (which operates Wikipedia). It contains a wealth of great imagery, sound files, and video, and almost all of it is licensed for reuse.
commons.wikimedia.org/wiki/Main_Page
If you're just looking for images, try Mayflower Search. It's a gallery front-end for searching Wikimedia: