Back to the Syracuse area this week, where people know better than to get too excited about the end of winter.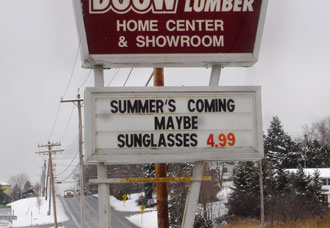 I visited Woodland Elementary and Pine Grove Middle School over two days, where spirits were good despite the weather. At Woodland I met some big pirates…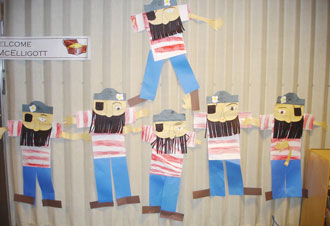 and ate a heavy cake. It was very heavy. At Jane Tretler, the librarian's insistence, I picked it up. Serious cake. Wow, was it good. Let it be known that Mrs. Hill can really bake.
I really enjoyed the days I spent with these kids, and it was a special treat for me because I don't often get the chance to speak to Middle School. It's a completely different vibe, even though the students are just a year or two older.
Thanks to Mrs. Kowalski, Mrs. Tretler, and everyone who worked to put the visit together. It was a pleasure from beginning to end.
On my way out, I passed this sign in the Pine Grove library. I like the policy: you don't have to throw your gum away, just store it in the wastebasket until you're ready to leave. As a former custodian, that works for me.